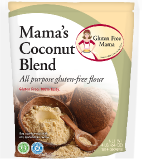 Does Mama's Almond or Coconut Blend Flours taste like Almond or Coconut?
No, you cannot taste the almond or coconut. They offer great texture, flavor and nutrition to your gluten free baking. The unique combination enhances the flavor and texture. Even those who don't like nuts will enjoy this blend.
What is the texture of Gluten Free Mama's Products?
Gluten Free Mama prides herself in offering flour blends and mixes that have a delightfully smooth, light and non-gritty texture. We use the highest quality ingredients and do not pass the cost on to our customers.
How should I store Mama's flour blends and mixes?
Gluten Free Mama's flour blend and mixes have a two year shelf life, unopened. If you are going to use them up quickly they can be stored in an airtight container on counter or in cupboard. If you don't bake often, you can store them in an airtight container in the refrigerator or freezer.
Can Mama's mixes be made dairy free and Egg Free?
Yes they can! Mama's Pizza Mix: Dairy free-Use milk of your choice (rice, nut, soy) Egg Free-Use 1-2 Tbsp. of honey or 1-2 Tbsp. milk Mama's Scone Mix: Use Coconut Cream or Milk or any dairy free milk of your choice. Mama's Pancake Mix: Dairy Free-Use milk of choice (rice, nut, soy) Egg Free- Use ¼ cup applesauce for each egg or ¼ cup yogurt per egg Mama's Pie Crust Mix: Dairy Free- Use dairy free margarine or shortening Egg Free- Use 1-2 Tbsp. honey or agave to hold it together.
Are Gluten Free Mama's Flours Organic?
Gluten Free Mama uses organic ingredients whenever possible. Due to the high cost of organic ingredients and being a smaller company that cannot buy in truckload volumes of single ingredients, we are unable to keep our price reasonable by using only organic ingredients. However, our products are all GMO Free, Gluten Free, Soy Free, Dairy Free.
Are Gluten Free Mama's products GMO Free?
Yes, all of Mama's products use GMO Free ingredients. We are currently in the process of joining the Non-GMO project.
Are Gluten Free Mama's products Certified Gluten Free?
Yes, Mama is proud to be certified gluten free through the Celiac Sprue Association. Celiac Sprue Association has strict guidelines and tests to less than 5 ppm where other groups test to less than 20 ppm. You can find out more about Celiac Sprue Association at www.csaceliacs.org