Making Gluten Free Dinner Rolls with Gluten Free Mama ~ Egg Free and Dairy Free Options!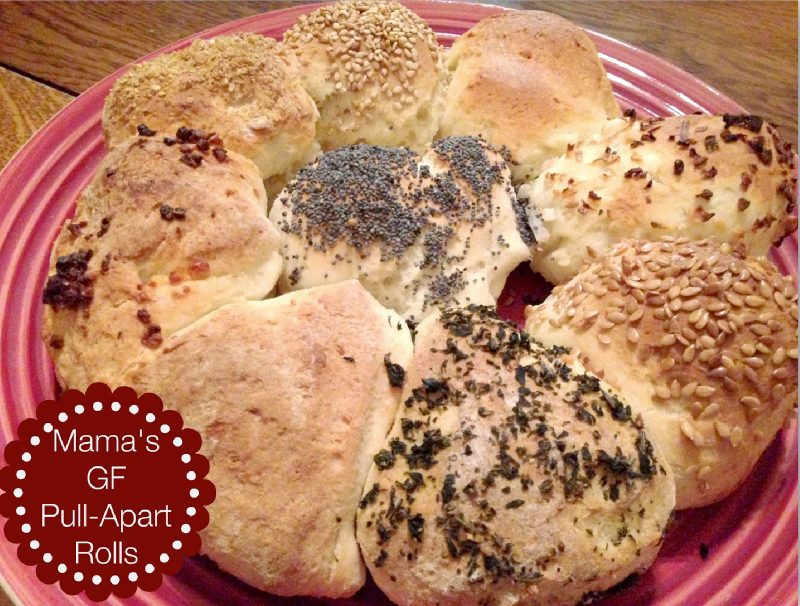 Gluten Free Mama shows you how to take her popular Gluten Free Pull-Apart Dinner Roll Recipe and make it 9 different ways and 11 different variations! It's like 11 recipes in one. This post includes tips, on pans to use, baking times, and fun variations. Making dinner rolls just became fun and even more delicious.
Now keep in mind, I am sharing with you my "Mama's Pull-Apart Dinner Roll Recipe", but don't feel confined to just this recipe. If you have another gluten free dinner roll recipe, whether its a Gluten Free Mama recipe, one of your own, or one you have picked up along the years that you enjoy, you can apply all these same techniques to achieve all of these different looks and flavors.
What are the best PANS to use when making rolls?
For making the Pull-Apart Style Rolls, use one of the Pans below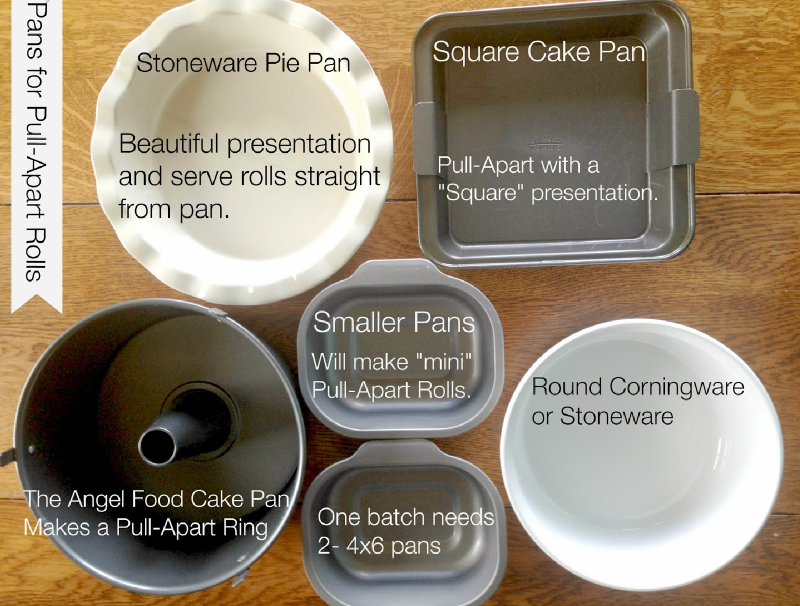 Baking Times Angel Food Cake Pan Using a 2 inch scoop, drop dough in offset pattern all the way around the pan. Needs 2 Batches of Mama's Pull-Apart Dinner Rolls Recipe. Use a non-stick pan for best results. Using lightly floured hands or warm water lightly smooth out edges of dough. Cover with dry towel. Rise in warm place 2 hours. If desired use one of the "topping variations" below. Bake at 400 degrees for 40 minutes just below center rack in oven or until golden brown.
Stoneware Pie Pan, Round or Square Cake Pan, Corningware Pan Using 2 inch scoop, drop dough around the outside edge and one in the center. Its okay if the dough touches or doesn't touch. When the dough rises and during baking the dough will rise together and stick. Using lightly floured hands or warm water lightly smooth out edges of dough. Cover with dry towel. Rise in warm place for 2 hours. If desired use one of the "topping variations" below. Bake at 400 degrees for 30 minutes on center rack in oven. Smaller Pans Use a smaller scoop, 1-1 1/2 inch. Place dough in offset pattern in a single layer. Using lightly floured hands or warm water lightly smooth out edges of dough. Cover with dry towel. Rise in warm place for 2 hours. If desired use one of the "topping variations" below. Bake at 400 degrees for 20 minutes. (These pans were purchased at Ikea)